SalatTime computes and displays the Salat (prayer) times for muslims. It also generates months and years Salat time-tables.

Read more
search terms:
java mobile freeware - freeware java mobile - java freeware for mobile - Freewares for java phones - opera mini 4 2for e3213k -

Locify is a mobile application containing many location services, for free and available for most phones. It also contains useful features like maps, navigation, place and route recording. Read more
search terms:
Locify for java - locify inštalácia certifikát -

talki is a FREE text, talk and picture messaging for your mobile phone!
Features
UNLIMITED texting with your talki friends! No more expensive international SMS charges! Read more
ShMessenger Mobile is a free instant messaging client for mobile phones, which supports YMSG (Yahoo!), MSN and GTalk protocols. In just a few minutes, you can chat with your friends on Yahoo!, MSN or GTalk from your mobile phone. Read more
search terms:
shmessenger rc1 - Download Shmessenger RC1 - Download shmessenger for samsung - tai shmessenger rc1 - download shmessenger v3 1 4 RC1 Java -

eBuddy mobile messenger is chat client application for mobile phones, which connects you to all the major Instant Messaging networks. support MSN Messenger, Yahoo!, AIM, Google Talk, MySpace IM and ICQ simultaneously. Read more
search terms:
ebuddy v1 2 - ebuddy 2007 - ebuddy 2007-2009 - www ebuddy com/bulid version - ebuddy 2007 version -

Calc Sheet Lite is a spreadsheet useful to perform simple and complex mathematical calculations using the wide range of built in 64 bit floating numbers functions. Read more
search terms:
java j2me apps 176*220 - calc sheet lite download - 220*340 java touch games - calc sheet lite j2me download - sound recorder touchscreen jar free download -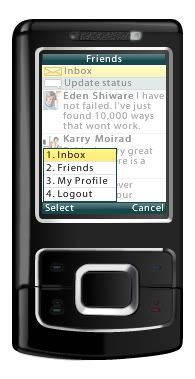 Snaptu's Facebook application lets you and your friends share the highs and lows of everyday life on the go. Just seen Brad Pitt crossing the road, reach for your mobile and tell the world! Give live status updates, browse through your friends profiles, read and write messages. Read more
search terms:
Facebook java k800 - latest snaptu facebook java -
The FX-602P is a full featured simulation of an Casio FX-602P Programmable Scientific Calculator with proper operator precedence is implemented, including trig functions and logarithms. Read more
search terms:
scientific calculator for java mobile - scientific calculator for java phone - calculatrice science mobile9 - scientific calculator for mobile jar - Download syentefic calcuater in java -

Simple Talking Clock written in Java for mobile phone J2ME compliant. Read more
search terms:
Talking clock java - talking clock for java phones - mobile talking clock - Aplicativo talking clock java - talking clock for java support samsung mobile -
Opera Software released the final version of its much-anticipated Opera Mini 4.2 for mobile phones. Since the launch of the beta version of Opera Mini 4.2, speed trials have shown that this version gives more than 30% speed improvements for users in the US, due to the addition of a new Opera Mini server park in the United States. Read more
search terms:
www operamini com/help?version4 2 - opera mini v4 2 - operamini v4 2 - opera mini amharic - opera mini amharce languge -