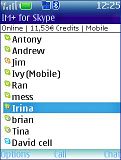 IM+ Talk is a skype application for your mobile phones that allows you to perform Skype functions and experience Skype features easily.it does offer some slick features like call and chat with your Skype contacts.
IM+ Talk which can be installed on any Nokia S40, Samsung or Sony Ericsson java mobile phone.
Cool Stuff
Messmo v1.1.48
Messmo uses the mobile internet and combines SMS with the best of instant messaging and email, to give you:
ICQ for Java-Enable Phones
ICQ for Java Beta mobile will use ICQ on your cell phone. Chat with everyone, everywhere using mobile chat Get friends status updates and birthdays of your friends directly on the cell phone Work with the Address Book and edit …
Xumii v1.14.5
Xumii allows you to stay connected with all your friends right on your phone. See the latest status from your friends on Facebook, MySpace and imeem and find out the latest gossip from the entertainment world. Chat with your friends …
To download over-the-air, open wap.shapeservices.com with your mobile browser.
Download
implus-skype.jar
implus-skype.jad