The allTunes.mobile is a music catalog in your phone.
With allTunes.mobile you can find and choose a song you are interesting of, or an album, new hits from charts, favorite musician or group. All this is available without a PC – it is enough to have a phone.
We offer more than 500.000 tracks! It is possible to listen to any composition free of charge or download it is direct to your phone.
Cool Stuff
MobiK FreeSMS
MobiK FreeSMS lets you send an SMS to any ad sponsored region in the MobiK Community Network.That's right, FREE SMS from your mobile handset and lots more.
M:VIDEO 1.00 Video Player For Java Phones
M:VIDEOby Marek Sedivy is a video player for mobile phones.it plays MP4 and 3GP format video files.
Q-CurrencyConverter
A powerful foreign exchange tool that gives live up-to-the-minute accurate conversions of exchange rates from your mobile. Because it uses live data streams you do not need to update it to get an accurate exchange conversion. Perfect for going overseas …
The basic advantages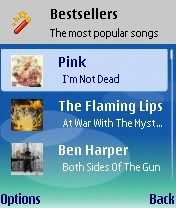 The biggest catalog of music. The catalogue is refreshed daily and contains all novelties of the musical industry
Convenient search of music in the catalogue. It is enough to type a full or a part name of a composition/album/group in the search. – The catalogue is made in alphabetical order
Online sections "Best sellers" and the "Novelties", allowing to be well informed about the newest and fashionable music
Preliminary listening of any composition. This service, as well as all mentioned before is free-of-charge for you. You pay only the traffic, according to your operator tariffs of of cellular communication
An opportunity to order any composition you liked and load this music directly to your phone
Compatible Devices
Any telephone with support Java MIDP v2.0 and Java MP3 player
Download
Download allTunes.mobile for free!