Hiisi Suite is a HTTP proxy server suite for mobile phone and PC that enables MIDP capable mobile phone to connect to LAN via bluetooth.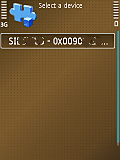 Cool Stuff
Opera Mini v 3.0
Opera Mini recognizes your phone's capabilities and optimizes Web pages accordingly for fast and easy browsing.
Wanatalk
A mobile JABBER and BLUETOOTH messenger in a single software and you can Connect to any JABBER server and chat or share files with your contacts directly (JABBER, GTALK) or through gateways (MSN, YAHOO, ICQ, AOL, IRC) whatever they are …
Mobiquus Push-Mail Application for Mobile Phone
Mobiquus is a push mail app for your mobile phone. It enables your mobile phone to get your emails as soon as they reach our servers.
Hiisi Proxy is a midlet for mobile that routes all the http traffic to Pihatonttu Proxy running on the PC. Before installing and running the applications, you have to configure them, according to your devices settings.
Tested and working in 6630, N73 and E61. It should work in any MIDP 2.0 mobile.
Download
Hiisi Suite 1.6.3