Hiisi Suite is a HTTP proxy server suite for mobile phone and PC that enables MIDP capable mobile phone to connect to LAN via bluetooth.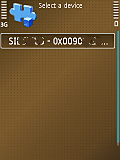 Cool Stuff
aka-aki 0.9.3
The aka-aki mobile phone application that can shows you on your mobile phone the profiles of people in your circle. In the city, in the region or up to 50km away. You also see which friends in the community are …
Facebook for Sony Ericsson
facebook application in Sony Ericsson can appear on screen in the main menu that displays the status of the image and your friend.
MobTorrent 1.0
MobTorrent is able to connect to the BitTorrent network. It enables both download and upload, thus in case of popular content the application can use the processor more. MobTorrent requires MIDP 2.0, CLDC 1.1 and JSR 75 for file handling.
Hiisi Proxy is a midlet for mobile that routes all the http traffic to Pihatonttu Proxy running on the PC. Before installing and running the applications, you have to configure them, according to your devices settings.
Tested and working in 6630, N73 and E61. It should work in any MIDP 2.0 mobile.
Download
Hiisi Suite 1.6.3