BT Info J2ME By marek sadevy
Control others mobile phone over bluetooth with this application
so you can created sms or calling on other phones over your phones.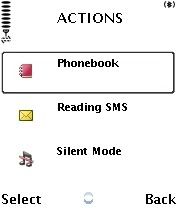 Compatible Devices
sony ericsson K750, W810, K800, K610, W710
Cool Stuff
ChronoTimer
This is a small app that includes a chronograph / stop watch and a reverse timer with both analog and digital display. Nice to have, and it takes up hardly any space.
Bluetooth Remote Control 4.0
Bluetooth Remote Control is a remote control program that allows you to remote control iTunes, PowerPoint, Mouse, WinAMP, Windows Media Player and much more from your mobile phone.
jTextLite 1.01 – Text Editor For Mobile Phones
jTextLite is a simple text editor for Java based mobile devices. with optional encryption.Compatible with jText – files encrypted with jTextLite can be opened by jText on a PC and vice versa.
Download
BT Info 1.05