JetAudio Silver Mini Skin for OggPlay by vinhhung. Hello dear lovers OggPlay, we have prepared for you best skins for JetAudio. you can download for free. The application is simple to use, a few clicks and you are downloading skins.
Enjoy using, and do not forget to tell your friends about the app!
Later collection of skins will increase, so stay tuned!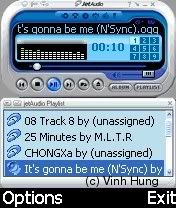 Cool Stuff
UltraMP3 v 1.52
UltraMP3 For symbianOS by www.lonelycatgames.com UltraMP3 is a music player for your mobile phone. It is a handy application with cool graphical user interface, allowing you to listen to your favorite music on your Symbian mobile device. UltraMP3 loads and …
Nokia Magnifier for S60 3rd Edition
Nokia Magnifier is a free application that utilizes the existing camera functionality on your Nokia S60 phone. It can be used to improve readability in life's every-day situations. Reading the "fine print" has never been easier.
CUBIX MP3 PLAYER
CubiX MP3 Player Symbian Software By Gamephone CubiX MP3 Player is the ultimate choice for any music fan! You get a high quality MP3 player which lets you create your own playlist, displays amazing 3D visualizations, provides a 10-Band Graphical …
Download
Skin for OggPlay
Let us know in the comments area below if you have any issues or question while installing JetAudio Skin on OggPlay.