Create masterpieces from your photos with the PhotoArt virtual painter!
Watch in real-time as your photo is re-created in a classic style!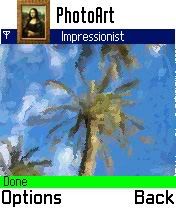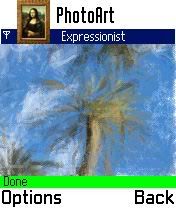 Features PhotoArt :
Cool Stuff
NetQin Mobile Guard – Improve your mobile phone performance
The NetQin Mobile Guard applies the best technology for accurately detecting and deterring internet accessing applications. Featured by advanced system optimization, software management and active defense, that is designed to provide users with simple, convenient and power efficient security services.
XpressEXIF 0.5 for Nokia 5800, N97 and 5530
XpressEXIF by kAIST is a Symbian application running on nokia S60v5 edition allows you to view data such as: -Camera model -The original date and time the picture was shot -ISO Sensitivity -Focal length -The value of the diaphragm -Using …
Digia Web Browser for Symbian 5th Edition
Digia Web is a modern, fully finger touch controllable, web browser for Nokia 5800, N97, 5320, Samsung i8910 HD and SonyEricsson Satio.this browser providing direct page control with finger, multiple browser windows, url auto-complete and automatic full screen browsing.
6 different painting styles – Impressionist, Expressionist, Cubist, Watercolour, Pointilist and Sketch
Different colour options, for even more painting styles
Save the finished work – or send to your friends!
Create small, medium or large images
Compatible Devices
Nokia 6600 SendoX Siemens SX1
available in the following languages:
English, Maltese, Czech, Finnish, Spanish, Dutch, Polish, Italian, Swedish, German
Download
PhotoArt v1.0.2