With AllFinder you can quickly and easily find any text message, e-mail, contact's details or calendar event on any Symbian S60v3 mobile device and let you edit it.Simply type in the keyword and press the Search button and the list with the relevant results will appear on the screen. These search results can be organized and managed in a usual manner.
Main features:
* Search by keyword or by date.
* Customize the settings according to your preferences.
* Find the message and forward/delete it.
* Find the contact to call or send a message.
* Find the calendar event and edit/delete it.
Compatible Cell phone
Nokia 3250
Nokia 5500d
Nokia 5700
Nokia 6110 Navigator

Nokia 6120
Nokia 6290
Nokia E50
Nokia E60
Nokia E61
Nokia E61i
Nokia E62
Nokia E65
Nokia E70
Nokia E90 Communicator
Nokia N71
Nokia N73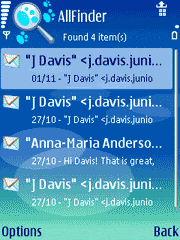 Nokia N75
Nokia N76
Nokia N77
Nokia N80
Nokia N91
Nokia N92
Nokia N93
Nokia N93i
Nokia N95
Download
AllFinder: Quick Lookup on Symbian S60 v3