With allTunes.mobile you can find and choose a song you are interesting of, or an album, new hits from charts, favorite musician or group. All this is available without a PC – it is enough to have a phone. We do not have DRM, and you can copy any file to your MP3 player or PC without restrictions. Our prices start from $0.05 per track.
allTunes.mobile contains 38.000 albums, 11.000 performers: more than 550.000 tracks in total!!! The catalogue is refreshed daily via GPRS or Wi-Fi connection and contains all novelties of the music industry.
allTunes.mobile offers convenient search of music in the catalog. It is enough to type a full name or a part of a name of a composition/album/group in the search field ? all compositions containing the relevant combination of letters will be displayed in the search results.
Another option to find the desired song is to use "Catalog". The catalog is made in alphabetical order. You can select either English or Russian layout.
After selecting the requisite letter, the list of groups that have names beginning with that letter appears in the main window.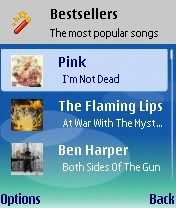 Online sections "Best sellers" and the "Novelties" allow you to be well informed about the newest and fashionable music. The sections are renewed constantly, thus a GPRS connection is required. If you are trying to access either of these sections without establishing the GPRS connection first, allTunes.mobile will ask for a connection.
The section "Favorites" stores the collection of the songs selected as your favorites. If you have used the service of pre-listening, the section stores not only the song name, but also the music sample. You can listen to it even in absence of the GPRS connection. You can listen to all songs free of charge or download any of them to your phone after accessing a personal account of the allTunes PC Version.
After selecting the desired bitrate (64, 96, 128, 192 kbit/s) you can access the "Downloads" section and download the selected composition.
Compatible Devices
Nokia 3250 Nokia 5500d Nokia E50 Nokia E60 Nokia E61 Nokia E70 Nokia N71 Nokia N73 Nokia N80 Nokia N91 Nokia N92 Nokia N93
Download
AllTunes For Nokia Series60 3rd edition