WHAT IS NEW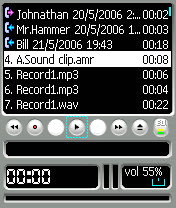 Fixed call recording bugs.
Auto archive of recorded phone calls.
Expanded support of sample rates for recording (from 8kHz to 48kHz depending on phone model).
Now you may record phone calls without beeps!
Append option for recorded files.
An opportunity of record phone calls in MP3 format.
Bookmarks. Now you may add/edit/delete bookmarks.
Expanded opportunity of loading M3U playlists.
Sleeping time option for playback.
Improved option of choosing play folder.
Full support of Nokia E90.
Free Internet Radio! You may use Internet Radio for free even after ending of trial period!
ALON MP3 Dictaphone is the first high-quality MP3 dictaphone which also supports AMR and WAV audio formats for recording, phone calls recorder and MP3, OGG, AAC/MP4/M4A, AMR, WAV audio player which supports Internet radio, has 3-Band Parametric Equalizer , hot buttons and M3U playlists.
You may easily turn your smartphone into advanced digital dictaphone and start to record lectures, conversations, interviews and phone calls. On the other hand you need not to spend money to music player – with ALON MP3 Dictaphone you can listen to your favourite music in MP3, OGG, AAC/MP4/M4A, AMR and WAV – the most popular audio formats.
Download
ALON MP3 Dictaphone v.2.88 for Symbian 3RD