Call Filter is a application freeware for your Symbian cell phones. It allows you to block and unblock any incoming calls from contacts selected as a filter rule in main application screen. Gives you a very convenient and quick access to block/unblock some phone number at runtime. This is convenient in situations when your BOSS is always on your head and you don't want to answer his call at certain moments during the day, it takes a few clicks and you are done blocking your BOSS calls.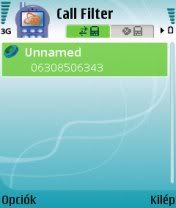 The logs screen of the application, it allows you to have a very quick look to the calls that were rejected by the Call Filter application with time stamps and the date.
Call When a log item is selected you can place a call to that rejected contact quickly, probably it was your boss and now you realised that should get in touch to him : Press the call button on screen and you are done.
Compatible Devices

Nokia 3600 Nokia 3620 Nokia 3650 Nokia 3660 Nokia 7650 Nokia N-Gage Nokia N-Gage QD Nokia N70 Nokia N72 Nokia N90 Nokia 3230 Nokia 6260 Nokia 6600 Nokia 6620 Nokia 6630 Nokia 6670 Nokia 6680 Nokia 6681 Nokia 6682 Nokia 7610 Nokia 5700 Nokia N77 Nokia E61i Nokia E65 Nokia 6110 Nokia N76 Nokia N93i Nokia 6290 Nokia N95 Nokia N75 Nokia N91 Nokia E62 Nokia E50 Nokia 5500 Nokia N93 Nokia N73 Nokia N71 Nokia N80 Nokia N92 Nokia E70 Nokia E60 Nokia E61 Nokia 3250 Nokia N91
Download
Anfy CallFilter For Symbian S60