This is a nice little utility that you can use to schedule SMS's to be sent at a preset time. Its perfect for sending birthday or anniversary greetings. Just type the message, set delivery time, and consider it done!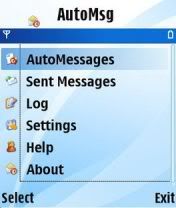 Compatible Phones
Java MIDP 2.0 Enabled phones
e.g sonyericsson K700 sonyericsson K750 sonyericsson w800 sonyericsson w900 Nokia 6630 Nokia 6680 Motorola RAZR BENQ Siemens.
Download
Auto Messaging