Azan Times shows daily prayer times for the selected city or configured locations to use on your java suppported cell phones or devices.
It is completely a free software and highly customizable. You can either choose a city from it's own database which includes capitals of almost all countries and a lot of important cities or you can save your own locations by entering it's coordinates.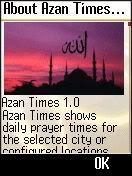 Features
Completely freeware. No extra steps needed to run. No registering, no sms sending, no limited features, no expiration, no ads or banners
Displays five prayer times (Sunrise, Noon, After Noon, Sunset, Dusk) and dawn time according to the selected options.
Select more than 300 cities from it's own database with search function.

Save up to 5 customizable locations.
Choose between 5 calculation methods widely used by most Islamic organizations.
Choose between Shafii or Hanafi calculation method.
Adjust advanced settings like time zone selection, daylight savings, altitude. Also automatic selection is possible.
Chance to be alerted on special days like holidays, begin of Ramadan, etc.
Displays Gregorian and Hijri dates.
Optimized for fast run and low file size.
Compatible Devices
Any cell phone or other mobile device with J2ME support (MIDP 2.0 with CLDC 1.0 or 1.1).
Enough space on device or memory card to store the software.
Will run almost on all screen sizes.
Download
AzanTimes MIDP 2.0 with CLDC 1.1
AzanTimes MIDP 2.0 with CLDC 1.0