Best Screen Snap version 1.01p for SymbianOS by SmartphoneWare
Freeware application that allows you to capture screenshots on your smartphone and save them to a file or send them to friends or to your desktop computer.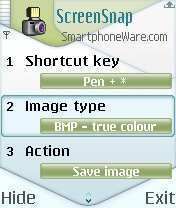 Other Feature
* You can save screenshots as true colour BMP, 256 colour BMP, and JPG. For JPG you can select the image quality (the worser quality the smaller the file size).
* Action: you can select action to be performed after taking screenshot. Save the image to disk or immediately send it via Bluetooth, Infrared, multimedia message or email.
* The application allows you to select a folder in Images section where your screenshots will appear in order to differentiate your screenshots from other images like your camera photos, etc
* Best ScreenSnap is FREE! You can download and use it absolutely free of charge. No spyware and adware inside.
Compatible devices:
Nokia 3230, Nokia 3650, Nokia 3660,
Nokia 6260, Nokia 6600, Nokia 6620,
Nokia 6630, Nokia 6670, Nokia 6680,
Nokia 7610, Nokia 7650, Nokia N70,
Nokia N90, Nokia N-Gage, Panasonic X700,
Panasonic X800, Samsung SGH-D730, Sendo X,
Siemens SX1
Download
Best ScreenSnap