This is a nice little utility that you can use to schedule SMS's to be sent at a preset time. Its perfect for sending birthday or anniversary greetings. Just type the message, set delivery time, and consider it done!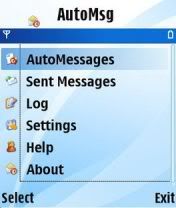 Cool Stuff
MessageHub 2.31
MessageHub is an instant messaging client that runs on mobile phones, allowing you to send and receive instant messages anytime, anywhere.It supports MessageHub, MSN (with avatar) and Yahoo chat. You are instantly connected to your existing friends! It is user …
JMS Snow v2.95
JMS Snow is a FREE mobile application which allows you to send a JMS (java message) to other java enabled mobile phones. Insert a photo, edit the parameters, insert a scroll text and send a cool JMS with a snow …
trutap – Mobile IM and Social Networking
trutap allows you to take your online social life where you go. You can send group messages, SMS and email from your mobile phone for free. You can also chat with your friends on IM (e.g. MSN) and post to …
Compatible Phones
Java MIDP 2.0 Enabled phones
e.g sonyericsson K700 sonyericsson K750 sonyericsson w800 sonyericsson w900 Nokia 6630 Nokia 6680 Motorola RAZR BENQ Siemens..
Download
Auto Messaging