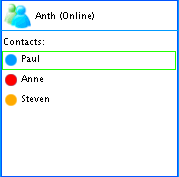 Finally a super fast version of Windows Live Messenger also commonly referred to as MSN Messenger has arrived on Mobiles. Talk to your friends when you want where you want. It comes with everything you need to talk to your friends on your mobile.
Features
Easy to use interface.
High Quality message sounds.
Appear as offline or any other status when initially signing on.
Low WAP data usage.
Very Fast.
Download
Q-MSN v2.0
Cool Stuff
Peoplesound Messenger 3.1.6
peoplesound is a Mobile instant messaging applications, chatting, SMS notifications and the ability to share photos, links, and news instantly with your real friends. Works on Blackberry, iPhone, Java & Symbian phones.
EQO Instant Messaging
EQO is a FREE application that brings free instant messaging, cheap calling and cheap texting to your cell phones. EQO is compatible with all major IM services: MSN, AIM, Yahoo!, Google Talk, QQ (NEW!), ICQ and Jabber!. Call or text …
WapAlta v3.13
WapAlta is a mobile e-mail client with a lot of features, such as attaches auto-adaptation, great traffic compression etc.