Java verified free messenger to send, receive, forward FREE SMS / MMS. Features: SMS to mobile, SMS to desktop, SMS to Outlook. Requires MIDP 2.0, internet access.
The first Java verified SMS Messenger. Uses patent pending technology.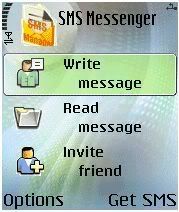 Top features:
Cool Stuff
Imania Messenger 1.4
The Imani Messenger lets you chat and send messages in the form of free SMS and MMS (IMS) and an unrestricted, you will also have a virtual agent at your disposal to help you find the people who need them.
Yamee 1.3
Yamee is a Yahoo Messenger client application for mobile phone by Saifullah AL Basrie. This is java (j2me) application based, so it can be install on many mobile phones (Java MIDP 2.0 and CLDC 1.0 compatible phones). No gateway server, …
IM+ Talk For Mobile Phones
IM+ Talk is a skype application for your mobile phones that allows you to perform Skype functions and experience Skype features easily.it does offer some slick features like call and chat with your Skype contacts.
sends free SMS (check How it works)
fully automated mode (check compatible phones section),
SMS/MMS from mobile to mobile,
SMS/MMS from mobile to desktop,
SMS/MMS to Email,
Forward my SMS/MMS to my email,
Flash SMS/MMS,
Many new SMS can be delivered at once,
Send SMS/MMS to multiple contacts,
Reply to SMS/MMS delivered into MS Outlook – no registration required,
Send Invitation to a friend to use smsplanet free service,
Compatible Devices
your phone must support Java (MIDP 2.0)
Download
SMS Messenger Mobile 1.0.4