UltraIM Pro is an application MSN messenger. It supports not only text chatting, Smileys, but also files and photos sharing between MSN clients and mobile MSN clients. Furthermore, UltraIM Pro also supports other advanced MSN features, like "MSN display picture" changing and receiving. This software is really the best MSN mobile application that you can find. It is the most popular dedicated MSN mobile application and is recommended between MSN lovers. Our target is to deploy full featured MSN client on mobile devices.
Features UltraIM Pro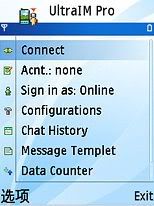 Cool Stuff
Q-MSN v2.0
Finally a super fast version of Windows Live Messenger also commonly referred to as MSN Messenger has arrived on Mobiles. Talk to your friends when you want where you want. It comes with everything you need to talk to your …
Talkonaut Mobile Messenger
Talkonaut is apllication freeware messenger with voice capable, Google Talk™ like application for your mobile phone. Talkonaut works on cell phones with Java (J2ME) support, including Windows Mobile and Palm handsets. Talkonaut™ supports Jabber, Google Talk, ICQ, MSN, AIM and …
Windows Live Messenger for Java Phones
Official Windows Live Messenger client for mobiles with very basic conversation features. Mobile data subscription is required and data tariffs usually apply.
Sound notification for selected users' sign in
Message templates
Change in contact's icon for incoming messages
Traffic meter
Icon size auto-scale for high resolution mobiles (Nokia N80, N90, etc…)
Send photos or files to your MSN friends via genuine peer-to-peer way
The only mobile messenger supports "MSN display picture" changing and receiving
Save chat history

Proxyless architecture, connecting directly to the public MSN network.
Pre-set sign in status
Presence as on mobile device or on PCs
Add/remove contacts. Contact list also keep synchronized with MSN client on your PC automatically.
Classify by groups or online/offline status. (you can manage up to hundreds of contacts easily)
Block and unblock contacts
Multiple conversations
Invite contacts to join one conversation (create a conference)
Change your display name and status at any time
Up to 40 build-in smiley icons
Sound notification for login, error and new messages
Support multiple characters, including English, all Western, Cyrillic, Central European languages and Far Eastern languages
Life-time free updates
Compatible Phones
Alcatel Touch756 Touch556 735i
Motorola A630 A668 A760 A768 A780 A920 A925 A1010 A1200 C370 C450 C550 C650 C975 E398 E680 E1000 V180 V220 Razr V3 V3 i V3x V300 V360 V500 V525 V535 V550 V600 V635 V878 V975 V80 V980 V1050 V6 V1100 W510 Z3 Z8
Nokia 3220 3230 3250 5140 5140i 5200 5300 5500 5700 6086 6100 6020 6021 6030 6060 6085 6101 6102 6110 Navigator 6111 6120 Classic 6125 6131 6136 6170 6230 6230i 6233 6260 6270 6280 6288 6290 6300 6600 6620 6630 6670 6680 6681 6682 6822 7260 7270 7360 7370 7373 7390 7610 7710 8600 8800 9300 9500 E50 E60 E61 E61i E62 E65 E90 N70 N71 N72 N73 N76 N77 N80 N90 N91 N92 N93 N93i N91 N95
SonyEricsson D750 K300i K300c K500i K500c K506 K508 K600 K700i K700c K750 M600 P990 S700 V800 Z800i W550 W800 W810 W900 W950 Z520 Z600 Z1010
Sagem myX5-2 myV-75 myV-65
Samsung E330 SGH-E600 SGH-E710 E718 SGH-E720 E728 SGH-E810 E818 D410D415 D600 D608 D720 D730 SGH-i250 SGH-P400 SGH-P730 P735 SGH-Z105 SGH-Z500 X450
Sendo X2 S600 M570
Siemens C65 C66 CFX65 CX65 CX66 CX70 M65 M66 S65 S66 SL65 SK65 ST60
Panasonic X700 X800
Download
UltraIM Pro v1.20 Instant Messenger