A mobile JABBER and BLUETOOTH messenger in a single software and you can Connect to any JABBER server and chat or share files with your contacts directly (JABBER, GTALK) or through gateways (MSN, YAHOO, ICQ, AOL, IRC) whatever they are (MOBILE or PC).and Chat or share files locally with BLUETOOTH.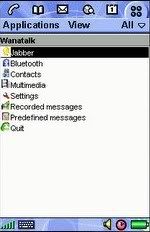 Cool Stuff
SMS Messenger Mobile 1.0.4
Java verified free messenger to send, receive, forward FREE SMS / MMS. Features: SMS to mobile, SMS to desktop, SMS to Outlook. Requires MIDP 2.0, internet access. The first Java verified SMS Messenger. Uses patent pending technology.
DJK-Sms 1.1
DJK-Sms is free sms application for Java J2ME based mobile devices. It sends short messages (SMS) to many phone numbers at same time. The phone numbers lists are loaded separately in the software, like djk-Microtext application. Send hundreads and thousands …
Mobiquus Push-Mail Application for Mobile Phone
Mobiquus is a push mail app for your mobile phone. It enables your mobile phone to get your emails as soon as they reach our servers.
Features
Manage your profile and your contacts (VCARD+Photo) in a one database shared by the two layers.
Manage your presence status/text. Presence status can be directed. (ie different to several users).
Send/receive simple messages, conversation messages, chatroom messages, files, contacts and your profile to/from your contacts.
Create predefined messages.
Record to your handset sent and received messages, chatroom and conversation messages history,files and contacts.
Manage a blacklist (For jabber, implemented by privacy lists).
REQUIRED
CLDC 1.0/1.1 MIDP 2.0 Java Virtual Machine.
Full web internet gprs/w-cdma/umts connection (no WAP) for the JABBER functionality.
A handset Java implementing JSR82 (Bluetooth API) for the BLUETOOTH functionality (*) .
Compatible Devices
SONY ERICSSON: P990, M600, W950, K750, W800, W880, K600, V600, Z520, W700, Z525, W600, W550, W900, W810, Z530, W300, K510, K310, Z550, K610, V630i, K800, K790, W850, Z710, W710
NOKIA: N-Series(N*), E-Series(E*), 7373, 6110, 3110, 2626, 6290, 6086, 6300, 6133, 7390, 8800, 6275i, 6275, 6151, 5500, 6126, 6131, 6136, 6125, 6282, 6234, 6233, 7370, 3250, 6280, 6265, 6265i, 6060, 6270, 6111, 8801, 8801i, 6682, 6680, 6681, 9300, 6630, 6255, 9500, 5700, 5200
MOTOROLA: V3x, L6, E770, E1070, V360, MOTOKRZR K1,Q q9, RAZR V3xx,Maxx V6, Z3, Z8, ROKR E6
SAMSUNG: Z620, D900, E380, E500
BENQ-SIEMENS: SL75, SXG75, BENQ EF81, BENQ S68, BENQ S81
Download