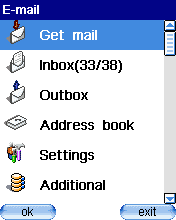 WapAlta is a mobile e-mail client with a lot of features, such as attaches auto-adaptation, great traffic compression etc.
Cool Stuff
Agile Messenger J2ME Beta
Agile Messenger J2ME Beta is a new Java version of Agile Messenger which connects to AIM, Yahoo!, MSN & ICQ and will work on most modern mobile phones.
Webmessenger – Mobile Instant Messenger
Webmessenger is a mobile instant messenger application that support Access AIM, MSN, Yahoo, Skype and Google from your mobile.
IM+ Talk For Mobile Phones
IM+ Talk is a skype application for your mobile phones that allows you to perform Skype functions and experience Skype features easily.it does offer some slick features like call and chat with your Skype contacts.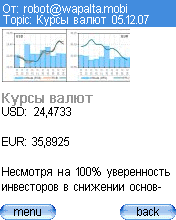 WapAlta works on virtually any mobile phone, including the most popular mobile devices in the marketplace. The service works with any mailboxes (including HotMail and Yahoo!).
WapAlta uses special science-based data processing and compression algorithms to decrease delivery time and traffic cost. Share colorful e-mail messages and any attached files with WapAlta. Open common office files (DOC, PDF, RTF etc) without any additional software on your mobile!
Download
WapAlta v3.13