SymbPlayer is an mp3 song player with nice and clear graphical user interface. You can customize how to look like the screen with skins and images from your device.
With Playlist Editor you can rearrange the list of the songs, and listen in the order you wish.
SymbPlayer has the best sound quality ever heard on cellphones.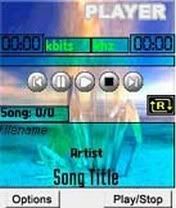 Features
• Displays ID3 tags, bitrate and frequency.
• Plays MP3 files (MPEG-1/2/2.5, ABR, VBR).
• Stereo playback (if supported by phone).
• Associated to MP3 files.
• Displays time elapsed and the length of the track.
• Volume control.
• Easy-to-use, continuous fast-forward and rewind.
• Skin and wallpaper support included. Add skins or your favorite pictures as wallpaper. For now 3 skins are available. The search engine has to find all images on the device. Only JPG files with the "jpg" and "jpeg" extension may be used.
• The best quality of sound ever heard.
• Available languages for now: English, German, Spanish and Japanese.
• The search engine has to find all mp3 songs on the device, or you can create and edit your own playlist. Search manually the storage devices.
Compatible Mobile Phones
Nokia 6260 Nokia 6600 Nokia 6620 Nokia 6630 Nokia 6670 Nokia 6680 Nokia 6681 Nokia 6682 Nokia N70 Nokia N90 Nokia N91