Relive the glory days of 80s computing on your phone with this DOS like shell and BASIC interpreter.
Features
DOS like command shell providing a set of simple commands such as copy, move, delete and list.
Ability to create/edit and run batch files
BASIC interpreter with graphics and file support
BASIC editor for creating/editing and running BASIC source files
FTP CLIENT
It's free!
Compatible Phones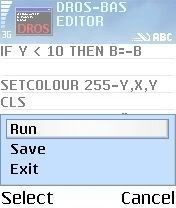 Sony Ericsson phones starting with the K750 (K750, W800, K600, K608, V600, Z520, W600, W550, W900, W810, Z530, W300, K510, K310, K610, K800, K790, W950, M600 and P990).
Nokia Series 60 (Symbian) phones starting with the 6630 (N71, N70, N80, N92, N90, N91, E60, E61, E70, 3250, 6630, 6680, 6681 and 6682).
Nokia Series 40 phones starting with the 6230i (6111, 6230i, 6270, 6280 and 7370)
Nokia Series 80 phones starting with the 9300, 9500
Siemens phones starting with the 75 Series.
Other manufacturers phones may work but have not been tested.
Download
DROS v0.53