emTube was written by Sebastian Jedruszkiewicz.
emTube is an application allows you to search, download, manage favorites and view videos on YouTube videos or play back a locally stored file.
emTube Features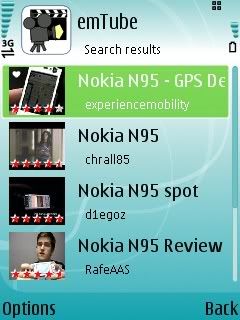 Created one binary for all phones, functionality is the same. Application will use the accelerometer if possible.
When saving a video its YouTube title is used as an initial file name. It still can be changed in a file selection box.
emTube now remembers the last path used to load or save video files.
Added Italian translation (by Enrico Santagati).
Added flv recognizer.
Added 2 new settings items: autorotate and temp drive selection

Video uploading.
Ability to read and add comments to videos.
Search and browse videos on YouTube.
Download selected videos onto your phone.
More audio/video codecs. At the moment only H263 video and MP3 audio codecs
are supported.
Stream FlashVideo files directly from YouTube.
Play local FlashVideo files.
Audio and position control during playback.
DailyMotion support.
Normal and full screen (portrait and landscape mode) video playback.
Ability to use built in accelerometer to rotate video between portrait/landscape mode.
Download
emTube for Symbian s60 3rd edition.