FExplorer 1.16 Symbian Software By Dominique Hugo
With this application you can to manipulate any files, you can use the cut/copy/paste functions through the directories, you can also send files via bluetooth or infrared. Other usefull functions are also available such as making or removing directories, keeping the light always on etc.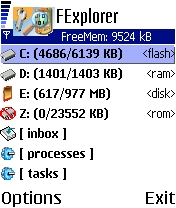 On this version fix bug :
* it's now possible to edit a text file and to save it back either in unicode or ascii
* applying attributes (hidden, read-only, …) on a directory, you can choose to apply the changes on the selected directory only or the selected folder, subfolders and files
* when changing attributes, a confirmation message is displayed prior to apply the changes
Download
FExplorer 1.16 BETA
Any remark, comments, bugs should be reported via the forum. (save as)
if you get some problems, please, remove the previous version using the application manager of your phone.