Blueeee! is a FREE bluetooth instant messenger for mobile phones. Fun, fast, and easy to use, Blueeee! utilizes Bluetooth technology to search for friends online and chat with them exactly the same way as you would do with MSN/Windows Live Messenger, ICQ, Yahoo AIM, or other instant messenging programs on your computer.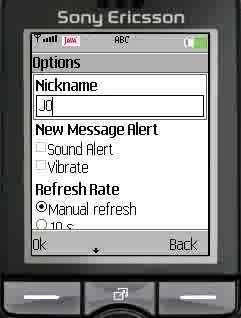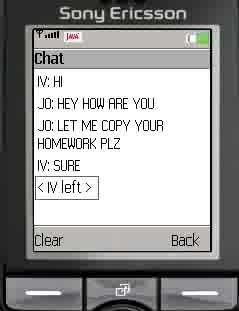 Cool Stuff
BMD Empty Batt
This is a tiny utility to discharge your battery faster. Every once in a while, you should discharge your battery completely before you charge as it helps the life of the battery.
AutoMsg
AutoMsg v 1 Java Freeware With this software you can send your message automatic at setting time.
Finarea Midlet 0.2
Finarea Midlet is a J2ME application which allows to initiate calls from your favorite Finarea service.
Blueeee Features
Blueeee! is completely free
Uses Bluetooth technology, no fees to pay whatsoever
Contact list shows friends who are online around you
Scrolling alert and graphical alert inform you of new messages
Extra large screen for easy
to
read chat sessions
Automatic scrolling of conversations when chat sessions get too long
Supports chatting/switching between different people at the same time
Nickname personalization
Choice of sound or vibration alert, or both when new message arrives
Choice of automatic or manual refresh of online contact list
Most phone models supported
Interface modelled after the most the popular instant messengers on PC
Fun, fast, and easy to use
Comes with complete and easy to understand QuickStart Guide
Download
Blueeee! version 1.20