Calc4M is a calculator for mobile phones. It is configurable and contains most of the normal functions such as trigonometric and logarithmic functions, conversions, constants, memories and binary and hexadecimal notation.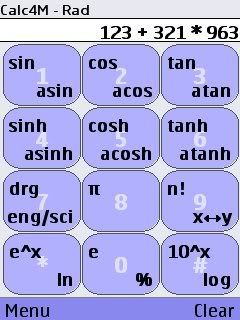 Cool Stuff
Money Watch v1.0.1
Money Watch is a free application to control your money. Intuitive and effective interface, diagrams and data import/export make it a reliable analytical tool.
Mesa Info Booth v2.2.4
Before you download and install Mesa Info Booth, make sure you have support for: J2ME(Java) on your phone or PDA. Mesa Info Booth runs on devices that support CLDC 1.1 and Mesa Info Booth is a free Java ME (J2ME) …
World Clock 3D
Are my colleagues in a distant country at work yet? Use this World Clock to find out. For the correct reflection of time do not forget to advance in tuning of telephone time zone GMT +3.00.
The configurations include possibilities to
display a welcome screen or not
display the call stack or not
automatically return to the basic arithmetic screen or not
use full screen mode or not
use nice looking button texts or "safe" texts that works in any mobile
choose from two different keyboard layouts
select calculation font size
select default number format (sci/eng/default)
decide type of "long button press" notification
Download
Calc4M 1.6