Calc4M is a calculator for mobile phones. It is configurable and contains most of the normal functions such as trigonometric and logarithmic functions, conversions, constants, memories and binary and hexadecimal notation.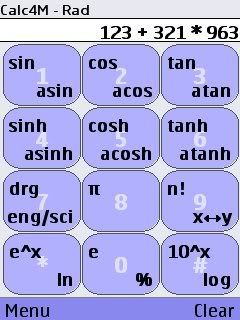 Cool Stuff
MobileRAR
MobileRAR Java Application By http://mobilerar.narod.ru/ You can use this application to unpack RAR files directly on your phone.
Mobile London Street Map v.0.3
What's New in version 0.3: – Street index location more accurate. – Supports two streets with same name (but not three!). – Added help. – Can select reselect map file location. – Press # to go to map centre. – …
JLearnItME 2.2
JLearnItME is a multilingual translator for mobile phones.
The configurations include possibilities to
display a welcome screen or not
display the call stack or not
automatically return to the basic arithmetic screen or not
use full screen mode or not
use nice looking button texts or "safe" texts that works in any mobile
choose from two different keyboard layouts
select calculation font size
select default number format (sci/eng/default)
decide type of "long button press" notification
Download
Calc4M 1.6