Sending and receiving short messages results in no fees through cellity. Your provider will not charge for any costly SMS anymore when you use our freeSMS tool -only the cost of data traffic (via GPRS).works on any Java MIDP1 and MIDP2 enabled phone, which means it also works on most of the Symbian and Windows Mobile phones (as many of them support Java)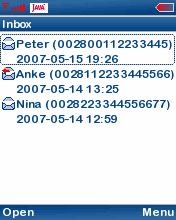 Features
Pay 0 cent per text message* to as many recipients as you like
Send and receive text messages worldwide
No change of provider necessary, up to 2.048 characters
Download
Cellity FreeSMS v1.3.2
Cool Stuff
Mobizines v 4.33
Mobizines is a free service that allows you to receive your favourite content on your mobile in a rich format. They look great, are quick and simple to use and because Mobizines are available offline, you can read them anytime, …
PhoneTime for mobile phones
PhoneTime is a free Java MIDlet for mobiles that helps you know when it is ok to call your relatives and friends living all around the world in different timezones, and when better not to call because it is night …
Locify v1.5 – Explore interesting places
Locify is a mobile application containing many location services, for free and available for most phones. It also contains useful features like maps, navigation, place and route recording.