This is a small app that includes a chronograph / stop watch and a reverse timer with both analog and digital display. Nice to have, and it takes up hardly any space.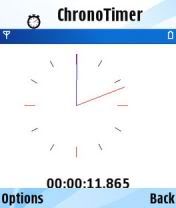 Cool Stuff
shMessenger v3.1.4 RC1
ShMessenger Mobile is a free instant messaging client for mobile phones, which supports YMSG (Yahoo!), MSN and GTalk protocols. In just a few minutes, you can chat with your friends on Yahoo!, MSN or GTalk from your mobile phone.
Winrar (Jzipman 2.0) For J2ME
Winrar viewer and compress on your mobile phones. Easy Unrar, Unzip and Zip allows you to extract rar and zip files easily. It has a browser to view files on your phone. Get simple zip compression, multi-part compression and AES …
GPS/J Version 2.65
GPS/J is an inteligent console for your GPS bluetooth receiver. Maps of a hundred countries and track export/import now available! It runs on most Java enabled phones.
Compatible Phones
Java Midp 1.0 and Midp 2.0
e.g.sonyericsson k700 sonyericsson k750 sonyericsson k600 sonyericsson k610 sonyericsson k790 sonyericsson k800 sonyericsson w700 sonyericsson w710 sonyericsson w800 sonyericsson 810 Motorola E398 Motorola L6 Nokia Ngage Nokia 6610…
Download
ChronoTimer