DJ Mixer is a J2me application from Nokia will make it easy to record and edit music files right on their mobile phones from now on. DJ Mixer is available for several Nseries phone models.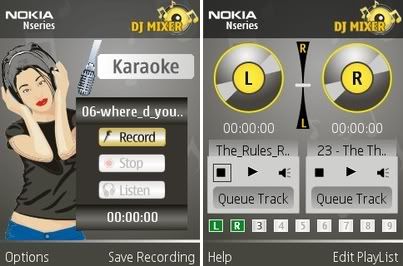 Compatible Phones
DJ Mixer will work only on Nseries phone models N73ME, N80, N93, N93i, N95, N73, N91 and N91ME.
Download
Dj Mixer For N-Series

Cool Stuff
Vimeo Official App For iPhone
Vimeo, the video content community site has just released its official app for iPhone. Now you can upload, edit, manage and watch your videos right from your iPhone.
AnyView – ebook reader for mobile phones
Anyview is a free ebook reader for mobile phones. Anyview is written in Java, therefore should run on any phone that supports Java, and supports the JSR-75 standard. It is known to run successfully on more than 100 phone models …
Opera Mini 4 beta
Opera Mini is a fast and easy alternative to Opera's mobile browser, allowing users to access the Web on mobile phones that would normally be incapable of running a Web browser. This includes the vast majority of today's WAP-enabled phones.