EQO is a FREE application that brings free instant messaging, cheap calling and cheap texting to your cell phones. EQO is compatible with all major IM services: MSN, AIM, Yahoo!, Google Talk, QQ (NEW!), ICQ and Jabber!. Call or text from your mobile as much as you want, at some of the lowest rates in the world.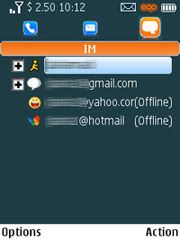 Cool Stuff
M:VIDEO 1.00 Video Player For Java Phones
M:VIDEOby Marek Sedivy is a video player for mobile phones.it plays MP4 and 3GP format video files.
LightMe 1.0.2
Just a white light is boring … so … LightMe.jar make random light effect too. Light stay on, independently by standby mode settings: note: your mobile phone setting are not changed by LightMe.jar … just put LightMe in background or …
Calc Sheet Lite 3.0
Calc Sheet Lite is a spreadsheet useful to perform simple and complex mathematical calculations using the wide range of built in 64 bit floating numbers functions.