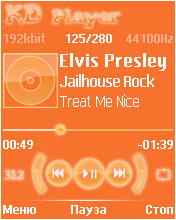 What's New in version 0.95
Cool Stuff
LyricShow Player
with the music player application LyricShow Player which runs song (MP3 ,WAV , AAC and MP4) Iyrics synchronously, and enables to you can read E-books while listening to music.
Nav4All Mobile Phone Navigation
Nav4All 7.0 integrates Navigation, Tracking & Tracing and Myworld in one product. It works worldwide on your own mobile phone in North America, Brasil, Mexico, Europe, Australia and soon in China as well.
Money Watch v1.0.1
Money Watch is a free application to control your money. Intuitive and effective interface, diagrams and data import/export make it a reliable analytical tool.
1. Added the equalizer for new phone models (the list of supported phones can be viewed HERE)
a. Adjusting Bass and Treble
b. The possibility of manual
c. The opportunity to create their installation
d. 4 standard installation (Rock, Pop music, Classical, Jazz)
2. New feature Play / Pause button for camera phones at SE.
3. The error in setting downloads AlbumArt
4. Changed definition size of the file in the window "Information"
5. Partially changed work with the keyboard on UIQ 3.0
6. Partially changed menus and display text in help
Download
KD Player 0.9.5 (English Version)