Meteo-siis a freeware World mobile weather forecasts, current weather and satellite pictures on mobile phone (Wind speed & direction, Temperature, Humidity, Cloud cover, Rain, satellite) and maps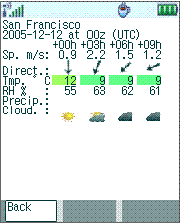 Supported mobile weather forecasts:
-World: GFS 55 km (for 72 hours: Wind speed&direction, Temp, Rel.humidity, Cloud cover, Rain, 2.000.000 locations),
-The Adriatic: Aladin 10km (for 48 hours: Wind speed&direction),
-The Adriatic/Istria: Aladin/ DADA 2.5km (for 48 hours: Wind speed&direction),
-Slovenia: Aladin 9.5km (for 48 hours: Wind speed&direction).
Cool Stuff
Operamini v4.2 Final
Opera Software released the final version of its much-anticipated Opera Mini 4.2 for mobile phones. Since the launch of the beta version of Opera Mini 4.2, speed trials have shown that this version gives more than 30% speed improvements for …
Map My Tracks v1.3.1
Map My Tracks turns your mobile cell phone into your personal real-time GPS tracking device. Using a mobile cell phone with built-in GPS or an external GPS receiver you can map and track your location in real-time. Map My Tracks …
Talking Clock 1.0
Simple Talking Clock written in Java for mobile phone J2ME compliant. Now you don't need to keep looking at your watch or your mobile to keep track of your time. Just set your Talking Clock to do that for you, …
Data is updated from GPRS/3G and WIFI connections and should work with any Java MIDP enabled device.
Download
Meteo-si Weather v1.61