mGuard provides protection and safety from theft or loosing your device and helps to retrieve it back. Now the users can forget the fear of loosing their device by protecting it using mGuard Software. As of now, mGuard is the world's only Theft Recovery Software for Java phones.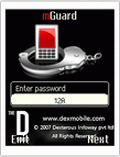 Features
Cool Stuff
PaderSyncFTP v.1.0.1 – FTP client and file manager
PaderSyncFTP the Freeware alternative to access FTP file servers with your mobile device.
TeaShark Mobile Web Browser
TeaShark gives you full web browsing on your mobile phone with superb usability and performance.TeaShark renders web pages the same way as desktop browsers. It's no more mobile web with hardly any content. Your favourite sites are the same on …
MobileWish – Flash Lite
MobileWish allows one to experience much higher degree of freedom by providing a complete experience on ubiquitous mobile handsets. Users can use their handsets to send and receive the greetings to almost anyone around the world.
Worlds First Theft Recovery Solution for Java Phones
SMS notification on SIM Change to predefined number
Does not affect mobile performance in normal operation
Complete Stealth operations
Tiny installation footprint
Easy Configuration
Settings Password Protected
Compatible Devices
mGuard is specifically designed to suit the Sony Ericsson Devices including
K530i K550 K550i, K550c K610 K610i, K610c, K618i K790 K790i, K790c, K790a K800 K800i, K800c
K810, K810i, K818c K770, S500i, S500c, T650i,T650c, W580 W580i, W580c, W610, W610i, W610c, W660, W660i, W710 W710i, W710c, W830 W830i, W830c, W850 W850i, W850c, W880 W880i, W888c, Z310 Z310i, Z310a, Z610, Z610i, Z710 Z710i, Z710c, Z750 Z750i,K850,W910i
Download
Get free mGuard for Sony Ericsson after registration