mGuard provides protection and safety from theft or loosing your device and helps to retrieve it back. Now the users can forget the fear of loosing their device by protecting it using mGuard Software. As of now, mGuard is the world's only Theft Recovery Software for Java phones.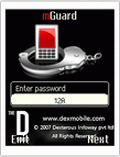 Features
Cool Stuff
TrackMyJourney v0.6.0 Beta
TrackMyJourney is a a Java mobile phone application that uses GPS data, view and share tracks recorded from GPS devices. Used with a compatible Mobile Phone, Bluetooth GPS Receiver and our TMJ-Mobile software, it can also display your live location …
Bloove Agent 11.0
Bloove is an online phone management service. It allows you to edit address book contacts and speed dial settings, initiate calls, work with messages and logs – all from your favorite browser. It is like PC Suite for the web.
Calc4M 1.6
Calc4M is a calculator for mobile phones. It is configurable and contains most of the normal functions such as trigonometric and logarithmic functions, conversions, constants, memories and binary and hexadecimal notation.
Worlds First Theft Recovery Solution for Java Phones
SMS notification on SIM Change to predefined number
Does not affect mobile performance in normal operation
Complete Stealth operations
Tiny installation footprint
Easy Configuration
Settings Password Protected
Compatible Devices
mGuard is specifically designed to suit the Sony Ericsson Devices including
K530i K550 K550i, K550c K610 K610i, K610c, K618i K790 K790i, K790c, K790a K800 K800i, K800c
K810, K810i, K818c K770, S500i, S500c, T650i,T650c, W580 W580i, W580c, W610, W610i, W610c, W660, W660i, W710 W710i, W710c, W830 W830i, W830c, W850 W850i, W850c, W880 W880i, W888c, Z310 Z310i, Z310a, Z610, Z610i, Z710 Z710i, Z710c, Z750 Z750i,K850,W910i
Download
Get free mGuard for Sony Ericsson after registration