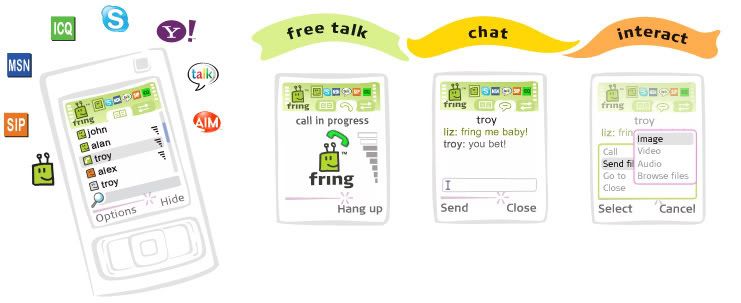 minifring is a lite version of fring, developed specifically for J2ME devices which do not support voice over IP calling. minifring delivers the same fantastic user experience as fring, initially focusing on several of fring's most popular features: rich IM-style chat and live presence, enabling owners of JAVA ME devices to now enjoy the freedom of interacting with other fringsters and taking all of their internet communities mobile.
Main features:
-Chat
-Supports: Skype, Google Talk, MSN Messenger, Twitter, Yahoo, AIM
-Autostart (Sony Ericsson only)
-Wap connection support
Cool Stuff
Gmail Java Application
The Gmail application lets you access your Gmail account from your mobile phone. The application works Java (MIDP2) mobile phones and devices and allows for quick and easy access to your Gmail account.
Innovative Motion Tracker For Java J2ME Mobile Devices
Innovative Motion Tracker is a freeware application for Java J2ME capable mobile devices that can detect any motion in the range of the mobile phone camera, take a picture of it and automatically upload the screenshot to a website. It …
EasyCalcBasic v1.6
EasyCalcBasic is a small and simple calculator for your mobile phone.
Download
Minifring v1.65