MobileWish allows one to experience much higher degree of freedom by providing a complete experience on ubiquitous mobile handsets. Users can use their handsets to send and receive the greetings to almost anyone around the world.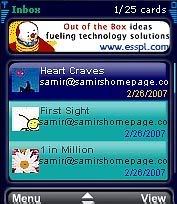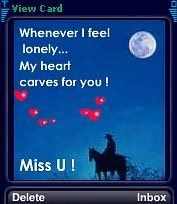 When an user sends a card it is published for the MobileWish client , which the the recipient can use to receive the card on his/her mobile. Apart from this an email link will also be send to the recipient's email so that so that he can also view it through internet browsers on a PC. In addition to this , there will is a Desktop version which is similar to the mobile client, which can be used to get in touch with the mobile wish cards on the desktop.
The following SWF file is compatible for all handsets that have Adobe Flash Lite 2.0 / 2.1 installed. This file is recommended for those handsets which have Flash Lite 2 or 2.1 installed
Cool Stuff
WorldMap For Java Phones
This software has the ability to ZOOM IN/OUT with beautiful colorization and on top of that very friendly interface.
Finarea Midlet 0.2
Finarea Midlet is a J2ME application which allows to initiate calls from your favorite Finarea service.
YouTube for Mobile 1.0.6 beta
The YouTube for Mobile is a simple application to watch YouTube videos on your phone . You can search for videos and upload your own straight to YouTube using a free, downloadable application designed specifically for mobile devices.
Compatible Phones
Nokia 7390, Nokia 6085, Nokia 5300, Nokia 3110 classic……
Download
MobileWish v2.0