Morange connects all the dots in your digital life and brings 'integrated experience' to your phone. For example, you can chat with friends on MSN, Google Talk, read and reply emails, read blogs and news… all from this thin mobile software.
Features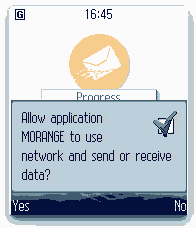 Cool Stuff
Microsoft Excel For Mobile Phones
This is a small spreadsheet application that is compatible with Microsoft Excel, and can create, open, edit, and save in Microsoft's '.xls' spreadsheet format.
Alvi Calendar v.1.0 – Hijri Calendar For Mobile Phone
Features Lists Hijri date for any Gregorian Year/Month Inidcate occasion by color (Black, Red & green). Graphical user Interface. Shortcut Keys – Up/Down or 2/8 :- to scroll dates. – Left/Right or 4/6:- to change month/year. – Select or 5 …
Salat Time 1.52
SalatTime computes and displays the Salat (prayer) times for muslims. It also generates months and years Salat time-tables.
Listen to your Favorite Podcast podcast on your phone!
Read News, Blogs with Full-Text & Picture RSS support!
Chat on the go: ICQ, AOL, Google Talk, MSN, Yahoo Messenger & QQ…!
Search friends by Gender, Age and Location in the Mobile Social Network
Remote PC Access from you phone!
Self-Customization: just go to "Settings–> Components" to select your components!
Take a picture with phone Camera and share with buddies.

Removed unpopular componment Calendar and Task.
Automatic network detection : GPRS/WiFi/WIF/3G/WAP
Push Mail, access your mail like blackberry from anywhere!
Mobile Device Requirements for Morange J2ME Client
* RAM (Heap Size) must be larger than or equal to 800KB.
* JAR size limitation must be larger than 350KB.
* Support for JSR-75 (for importing contacts and downloading mospace files) is optional.
Download
Morange Mobile Client v3.3.2