Nimbuzz for the Mobile is a free all-in-one solution for Internet-enabled mobile phones that allows you to take your IM buddies with you — wherever you go. Nimbuzz works on more than 500 handsets and with multiple messenger communities, including: Skype, MSN, Google Talk, Yahoo!, AIM and Jabber.
Features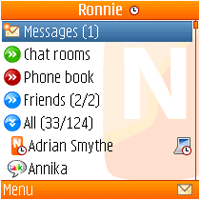 Cool Stuff
Opera Mini v 3.0
Opera Mini recognizes your phone's capabilities and optimizes Web pages accordingly for fast and easy browsing.
Anti Theft Alarm v1.0
Anti Theft Alarm by Umar Descriptions: This application alerts us when our mobile phone is being touched. With Anti Theft Alarm, thieves and up-to-no-gooders are greeted with a loud car alarm! It is fun way to catch friends, kids and …
World Clock 3D
Are my colleagues in a distant country at work yet? Use this World Clock to find out. For the correct reflection of time do not forget to advance in tuning of telephone time zone GMT +3.00.
Call your IM buddies worldwide using your mobile phone at local fixed line costs. No credits needed.
Chat with your IM buddies for free.
Use and create public and private chatrooms for free.
Snap and send photos for free.
Send and receive voice messages.
Backup and restore all your contacts anytime with the Phonebook feature.
Send text messages within the Nimbuzz community for free.
Get your offline buddy online by Buzzing him/her.