Nimbuzz for the Mobile is a free all-in-one solution for Internet-enabled mobile phones that allows you to take your IM buddies with you — wherever you go. Nimbuzz works on more than 500 handsets and with multiple messenger communities, including: Skype, MSN, Google Talk, Yahoo!, AIM and Jabber.
Features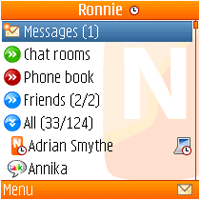 Cool Stuff
LoveDice v1.0
LoveDice is a simulation of a pair of foreplay dice. It will suggest for you what to do where on your partner. Just press a button and enjoy a sensual command. Play in turns.
Bloove Agent 11.0
Bloove is an online phone management service. It allows you to edit address book contacts and speed dial settings, initiate calls, work with messages and logs – all from your favorite browser. It is like PC Suite for the web.
LightMe 1.0.2
Just a white light is boring … so … LightMe.jar make random light effect too. Light stay on, independently by standby mode settings: note: your mobile phone setting are not changed by LightMe.jar … just put LightMe in background or …
Call your IM buddies worldwide using your mobile phone at local fixed line costs. No credits needed.
Chat with your IM buddies for free.
Use and create public and private chatrooms for free.
Snap and send photos for free.
Send and receive voice messages.
Backup and restore all your contacts anytime with the Phonebook feature.
Send text messages within the Nimbuzz community for free.
Get your offline buddy online by Buzzing him/her.