Nimbuzz for the Mobile is a free all-in-one solution for Internet-enabled mobile phones that allows you to take your IM buddies with you — wherever you go. Nimbuzz works on more than 500 handsets and with multiple messenger communities, including: Skype, MSN, Google Talk, Yahoo!, AIM and Jabber.
Features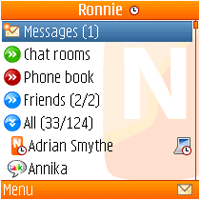 Cool Stuff
Snaptu Facebook
Snaptu's Facebook application lets you and your friends share the highs and lows of everyday life on the go. Just seen Brad Pitt crossing the road, reach for your mobile and tell the world! Give live status updates, browse through …
Instango v0.47.2
You may send and receive chat messages GoogleTalk, ICQ, AIM, MSN or Yahoo! and Push-to-Talk messages to/from other instango users and Send pictures and files to instango users to e-mail addresses and other IM networks.
IM+ for Java Phones
IM+ All-In-One Mobile Messenger by SHAPE Services is a complete solution that allows users to exchange instant messages within MSN/Windows Live Messenger™, AIM/iChat, ICQ, Jabber, Google Talk and Yahoo between mobile devices and PCs in real-time.
Call your IM buddies worldwide using your mobile phone at local fixed line costs. No credits needed.
Chat with your IM buddies for free.
Use and create public and private chatrooms for free.
Snap and send photos for free.
Send and receive voice messages.
Backup and restore all your contacts anytime with the Phonebook feature.
Send text messages within the Nimbuzz community for free.
Get your offline buddy online by Buzzing him/her.