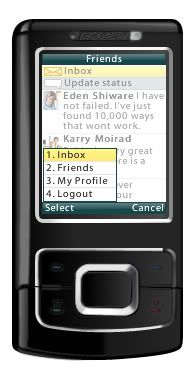 Snaptu's Facebook application lets you and your friends share the highs and lows of everyday life on the go. Just seen Brad Pitt crossing the road, reach for your mobile and tell the world! Give live status updates, browse through your friends profiles, read and write messages.
-Live news feed and status updates
-Complete inbox features, allows you to read and write messages
-View your profile
-Login once – now with 'remember me' mode
-Easy navigation using menu options
Cool Stuff
Marek Sedivy Bt Info v1.08 (updates)
Download the latest Bt Info for your mobile phone!……. BT Info is a Program to control and read informations from other phone
MP3Tools 2.1.1 For Java Phones
MP3Tools is an application that allows you to cut your mp3 to create ringtones and to edit the tags of your mp3 from your mobile phones. The best tool audio editing that lets you crop any audio file that you …
Comeks Strips For Java Phones
Comeks Strips is an application for creating comic strips quickly using mobile phone. Created comics can be either saved, sent to your friends via MMS, e-mail or shared in www.comeks.com and later in other web communities too.
Download
Snaptu Facebook