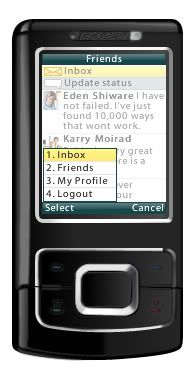 Snaptu's Facebook application lets you and your friends share the highs and lows of everyday life on the go. Just seen Brad Pitt crossing the road, reach for your mobile and tell the world! Give live status updates, browse through your friends profiles, read and write messages.
-Live news feed and status updates
-Complete inbox features, allows you to read and write messages
-View your profile
-Login once – now with 'remember me' mode
-Easy navigation using menu options
Cool Stuff
MTextReader 2.0
Below are phone models that have been tested using emulators and/or real phones: Nokia: 2855, 3152, 3155i, 3250, 5500, 6060, 6101, 6102, 6103, 6126, 6131, 6136, 6155, 6165, 6230i, 6234, 6235, 6235i, 6255, 6265, 6270, 6280, 6282, 6630, 6680, 6681, …
bExplore 0.1
bExplore is a mobile file explore that lets a mobile user to browse files on a local device and remote devices and exchange files between a local device and a remote device over Bluetooth.
m3Dcam
Application that allows you to use your mobile phone camera to create 3-D anaglyph images.The 3D images can then be either viewed on phone screen (using suitable pair of 3D glasses) or saved to a community.
Download
Snaptu Facebook