ToDoManager is a J2ME application that allows users to manage and schedule your personal to-do list. You can add, edit and delete to-do notes. Manage prioritise and deadline with alarm.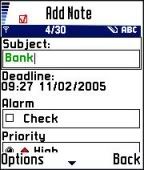 Features
Cool Stuff
BT Info 1.05
BT Info J2ME By marek sadevy Control others mobile phone over bluetooth with this application
Monitor Java Phones v1.0
This simple program allows to profile your time. It makes it possible to easily monitor how much time is spent for activity you are doing. It can be used for monitoring some physical processes as well as your traditional housekeeping …
Talki v2.3.17
talki is a FREE text, talk and picture messaging for your mobile phone! Features UNLIMITED texting with your talki friends! No more expensive international SMS charges!
New: Enables to create a new to-do notes, specifying& ;prioritise and deadline with alarm.
View: View in summary selected to-do notes.
Edit: Edit selected to-do notes detail.
Delete: Delete selected to-do notes.
Delete Completed: Delete all to-do notes completed.
Preferences: Enables to view all to-do notes ordered by subject, deadline or prioritise.
Complete/Incomplete: Set to-do notes state to complete or not complete.
Download
ToDoManager v1.3.1