Whizzper is a Java Application that allows mobile phone users to message buddies that are connected on their mobile phone or connected on their internet based IM account, such as MSN, AIM, Yahoo and Google Talk Messenger . Whizzper offers the mobile phone user a much much cheaper solution for messaging their buddies by using an standard mobile data connection and connecting over either TCP or HTTP depending on the given mobile phone's capabilities. Cool wallpapers and other multimedia features will be available to registered users through information received in the Inbox.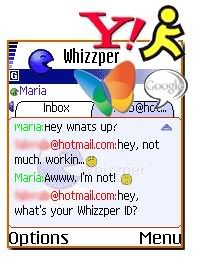 Features
Whizzper works on ANY mobile
Chat with MSN, AIM, Yahoo and Google Talk Buddies ANYWHERE!
Invite Friends from Within Whizzper
Whizzper's Cheaper Faster & Better
System requirements
Java MIDP 1.0/2.0 (Mobile Information Device Profile)
Cool Stuff
Talki v2.3.17
talki is a FREE text, talk and picture messaging for your mobile phone! Features UNLIMITED texting with your talki friends! No more expensive international SMS charges!
Gmail mobile v2.0.6
Gmail for mobile 2.0 is designed to be more reliable in low signal areas and provides basic offline support for phones like the Nokia N95, Sony Ericsson W910i, and BlackBerry Curve. You can now log into multiple accounts (including both …
Mobile CricketCast 2.3
Never miss the action while on the move! Follow Cricket games anywhere, anytime! Catch the latest score! Get live text commentary pushed to your phone with every ball.
Download
Whizzper v1.5.06