Are my colleagues in a distant country at work yet? Use this World Clock to find out. For the correct reflection of time do not forget to advance in tuning of telephone time zone GMT +3.00.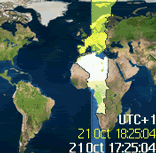 Download
World Clock 3D
Cool Stuff
Ringtone Cutter For Java Phones
MP3 Cutter for java enabled mobile phones. Ringtone Cutter is the first and only application that allows you to create ring tones and tone without any time limit .After clip ringtones , and can easily be found in the ringtones …
Calc4M 1.6
Calc4M is a calculator for mobile phones. It is configurable and contains most of the normal functions such as trigonometric and logarithmic functions, conversions, constants, memories and binary and hexadecimal notation.
Microsoft Excel For Mobile Phones
This is a small spreadsheet application that is compatible with Microsoft Excel, and can create, open, edit, and save in Microsoft's '.xls' spreadsheet format.