Are my colleagues in a distant country at work yet? Use this World Clock to find out. For the correct reflection of time do not forget to advance in tuning of telephone time zone GMT +3.00.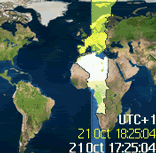 Download
World Clock 3D
Cool Stuff
We-Travel
We-Travel is a personal initiative to develop a free navigation solution for Java enabled mobile phones.We-Travel gives you clear voice directions to reach your destination in an optimal way, either by car, bike or foot, supported by a 3D 'bird's …
Azan Times 2.1 for Worldwide Prayers For Mobile Phones
Azan Times for worldwide Prayers for Mobile Phone is used to listen Azan (Athan, Adhan) automatically on every prayer time (Nazam, Salat) five times a day on the mobile phone.
JAM SE
JAM SE Mobile Music Manager By http://mitglied.lycos.de/jamsoftware Free mobile application for a range of Sony Ericsson phones that allows you to control your music collection from your phone, using Bluetooth.