Are my colleagues in a distant country at work yet? Use this World Clock to find out. For the correct reflection of time do not forget to advance in tuning of telephone time zone GMT +3.00.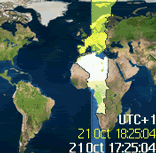 Download
World Clock 3D
Cool Stuff
GPS Track 1.1 for J2ME
GPS Track connects to a GPS and records the path that you travel. Tracks can be uploaded to a web site, sent by email, transferred via Bluetooth, or written to a flash memory card. Google Maps and Google Earth are …
Minifring v1.65
minifring is a lite version of fring, developed specifically for J2ME devices which do not support voice over IP calling. minifring delivers the same fantastic user experience as fring, initially focusing on several of fring's most popular features: rich IM-style …
bExplore 0.1
bExplore is a mobile file explore that lets a mobile user to browse files on a local device and remote devices and exchange files between a local device and a remote device over Bluetooth.