This software has the ability to ZOOM IN/OUT with beautiful colorization and on top of that very friendly interface.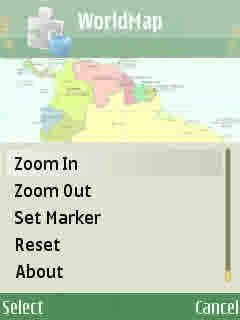 Cool Stuff
MyBrowser v 0.6 Java
If you are trying to browse web sites which contains large images, you should disable images to avoid memory errors, it is because the browser currently does not support image resizing
LightMe 1.0.2
Just a white light is boring … so … LightMe.jar make random light effect too. Light stay on, independently by standby mode settings: note: your mobile phone setting are not changed by LightMe.jar … just put LightMe in background or …
Compass 4.1 J2ME
Use your cell phone as a compass. By rotating the phone so that the sun and/or moon icons match their location in the sky, the top of the phone will indicate true north.
Support
* LG U8150
Motorola V180, V200, V360, V600, A630, C650, RAZR V3, SLVR L6, SLVR L7
* Nextel 7520
* Sagem myX5-2v
* Samsung SGH-E370, SGH-X700, SPH-A680, C100, D600E, X100
* Sanyo VM-4500, MM-8300
* Siemens M50, S55, C55, M55, C60, MC60, A65, C65, CFX65, C75
* Sony Ericsson K300i, K500i, F500i, K600i, K610i, K700i, S700, K750i, K800i, W800i, Z800i, P900, P910, P910i, Z1010, K800i, K790i, W810, W900, W700, W850, M600i, P990i, W710, K600, K610, K618i, K608i
* RIM BlackBerry 7230, 7230e, 7280
* Nokia 3220, 3230, 5140, 6020, 6021, 6030, 6060, 6131, 6220, 6230, 6230i, 6233, 6260, 6280, 6600, 6610i, 6630, 6820, 6822, 7200, 7250i, 7610, 7710, 9300, 9300i, 9500, N-gage, N70, N80
Download
WorldMap