This is a FREEWARE audio-enhanced program of Chapter 36 – Yaseen – of the Holy Quran, as recited by Sheik A.R. Alsudais. In addition, it also contains the human interpretation of those verses in literal English translation, solely for academics and educational purposes. The translation is by Prof.H Qaribullah, Umm Durman Islamic University.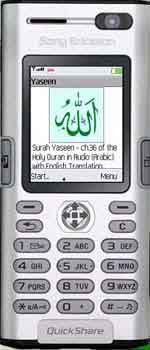 Requirements
1Mb heap MIDP 2.0 with MMAPI
Cool Stuff
J2MEdit v1.0
J2MEdit is a source code editor and syntax highlighter for mobile phones. J2MEdit allows you to create, edit, store, share, and compile source code in various programming languages including Java, C/C++, PHP, and HTML.
Comeks v1.0.41
Comeks Application can be userd to create comic strips quickly using mobile phone. Created comics can be either saved, sent to your friends via MMS, e-mail or shared in www.comeks.com and in other social networks (Friendster, facebook and Bebo).
GuidedWays Quran Reader Basic v4.3.3
Read and Search the Quran in Arabic, English, French, Spanish, Indonesian, German and Melayu languages for Java-enabled phones, Smartphones, Pocket PCs, Blackberry devices and Symbian OS.