Aquamarine by CornPlay is a virtual aquarium, which you can create yourself. You can do : change the color of the water and the bottom, add plants, rocks, sea stars, shells and more. And, of course, various fish decorate the display of your mobile phone. You can create as many aquariums, but want : from the beautiful and bright to dark and empty, depending on your mood.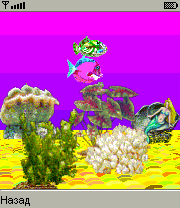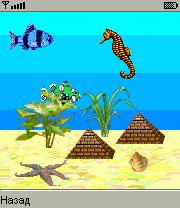 Cool Stuff
JMEBoy 1.3.3
JMEBoy is a Java-based Gameboy and Gameboy Color emulator for mobile devices . If you want to play Gameboy games on your mobile phone you should try this emulator.
FreeFlight For MIDP 2.0
FREEFLIGHT brings the fun and the emotion of flight simulation to a J2ME mobile phone, capable of 3D rendering (JSR-184).There is no peculiar target in FREEFLIGHT. Just the fun of flying in what is likely to be the most realistic …
Hungry Hare v.1.1
Controlling the hare try to collect the carrots in the basket, avoiding the falling bombs! Remember that if you don't catch a carrot in 40 seconds, then the hare will die of hunger!
Compatible Devices
java MIDP 1.0 and MIDP 2.0
Download
Aquamarine Java Game