This is a Java ME (J2ME) application that allows to shows the time, the current location, the speed, and the moving direction on the display of the mobile phone and runs on all phones, which at least support CLDC 1.0 and MIDP 2.0 and which allow access to Bluetooth or the serial interface .
Usage
– Start GPSViewer.
Cool Stuff
Map My Tracks 1.4.6
Map My Tracks is the easy way to accurately track, or share in real-time, your sporting activity over land, sea or air using your mobile cell phone and GPS.
Easy Locator 1.00 – Location Tracking for Blackberry
Easy Locator allows you to remotely track the location of the phone on which it is installed. A text message from any other phone will trigger an SMS response containing the location of the tracked device (link to a map …
MapNav – GPS navigation system For Mobile Phones
Map Mobile Navigator (MapNav) is free navigation application for mobile phone with Java support MIDP-2.0 and GPS-receiver (Bluetooth or embedded, and other).You can take screenshots from map or any other information screens and save it in BMP or GIF format …
– If necessary change the desired connection mode in the menu "Options". On Bluetooth capable mobile phones Bluetooth is preset, otherwise the data cable. In addition with selection of the data cable the Baud rate can be changed. The NMEA default value of 4800 Bit/s is preset. If needed, the automatic or manual altitude correction can be activated. The menu can be reached by a function key. Since the display is used in full-screen mode, on many phones is no mark for the active function key.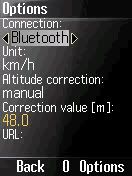 – The indication of the speed can take place in km/h or knots. The signal quality is the better, the smaller the value is.
– The indication takes place in blue, if no connection to the GPS receiver exists and red, if the GPS data are invalid (no free view to satellites).
Download
GPSViewer 2.6 (CLDC 1.0 / MIDP 2.0) or
Select http://wap.wayviewer.de on the mobile phone and download and install GPSViewer directly.