Guardian 2.0 Symbian Software By Marco Bellino
The new antitheft system for Symbian Series 60 devices.Every time you switch on your mobile telephone, Guardian proceeds with authentication of the inserted sim card; if authentication fails, Guardian send a notification sms message to a previously set telephone number.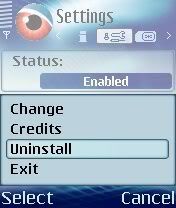 – Sms Notification –
Guardian automatically sends an sms notification about the change of the sim card containing additional information (new owner's phone number, GSM cell ID of the terminal to which the telephone is connected, country ID and current network). Such sms messages are sent without notifying the new user.
– AutoStart –
Guardian autoruns every time you turn on your mobile phone; to be fully operative, users simply need to install it and set it up.
– AutoHiding –
When an unauthorized sim card is inserted (or in case the mobile phone is turned on without any sim card inserted), the program will switch to invisible mode (and therefore will not be accessible anymore). The new user will not be aware of the presence of an antitheft system. When an authorized sim card is inserted, Guardian will return to visible mode.
– Multilanguage –
Guardian includes multilanguage features; Just download the correct version for your language.
– Uninstall Protection –
This feature protects the system from unauthorized uninstallation. The program is not visible among the installed programs; to be uninstalled, a specific procedure is required, which may be accessed from the program only.
– Hard Reset Protection –
Modern mobile devices are equipped with a procedure (hard-reset) which allows to restore default settings (removing every installed software). Similar antitheft application programs may be blocked by using this procedure. Guardian features an advanced shadow copy system; in 90% of cases the program is not deleted after a hard-reset.
– Low Overhead –
During the day-to-day usage of the phone with an authorized SIM, Guardian will not use any memory resource, and it will not even run in the backround. The program will start every time the phone is turned on and if the SIM is authorized it will simply turn off without wasting any resource.
Download
Marco Bellino Guardian v2.0 BETA Version