You may send and receive chat messages GoogleTalk, ICQ, AIM, MSN or Yahoo! and Push-to-Talk messages to/from other instango users and Send pictures and files to instango users to e-mail addresses and other IM networks.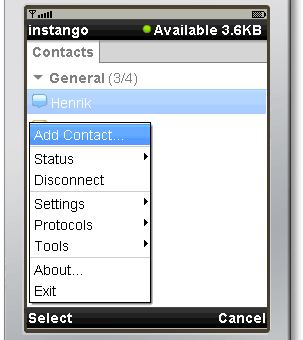 Features
Push-to-Talk
Send short voice messages for free* to any instango user. You may even send voice messages to any PC or Mac user on GoogleTalk, ICQ, AIM, MSN or Yahoo!
Send Pictures and Files
Take a picture or select any file on your mobile phone and send it to your friends at instango or one of the major IM networks.
Mail
With instango you get a free e-mail address. Receive e-mails sent at this address and they will be delivered to your instango. Add any e-mail address to your contact list to mail text messages, audio messages, files and pictures
RSS Push
Have your RSS news feeds delivered in realtime. Simply add your RSS feeds from within instango or using the myaccount pages on this website.
SMS
Still have friends not using instango? Send regular text messages (SMS) from instango and save.
Connect to any Jabber Service (Pro only)
Connect to any Jabber (XMPP) service. Connect to your Enterprise Jabber server. Instango Pro lets you even connect directly to your GoogleTalk account.
Use a Secure Connection (Pro only)
Connect securely to the instango service or any Jabber (XMPP) service that supports TLS encryption. Rest assured that nobody will be able to intrude you privacy.
Download
Instango v0.47.2