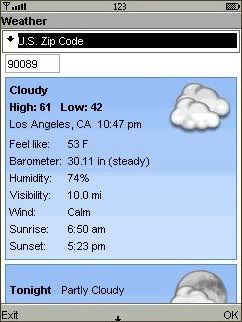 Mesa Info Booth delivers weather, news, stock quotes, dictionary, movie theater showtimes, sports news and scores, RSS reader supporting images and podcast/videocast, and games to your sexy cell phones.
Compatible Devices
Available for any cell phones supporting Java ME (CLDC 1.1/MIDP 2.0).
Cool Stuff
Ovi Browser Beta for Nokia S40 Phones
Ovi Browser is an Opera mini-style web browser for Nokia S40 phones that compresses webpages before they reach users, in order to slim down on data charges and load heft.
mJetz web browser v1.10
mJetz is a full-featured mobile browser designed to provide a great web experience on most mobile phones . Teach your ordinary phone some impressive new tricks:
Qeep 1.92
Qeep is a Java-based application that offers mobile messaging, photoblogging, multiplayer gaming and other social-networking services all within one easy-to-use application.
Download
Mesa Info Booth 3.3