ONSPEED Mobile is unique mobile phone acceleration software, which speeds up and optimises slow Internet connections and helps users control associated data cost.ONSPEED Mobile speeds up web browsing by up to 10x compared with your existing mobile web browser.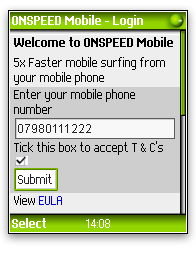 ONSPEED Mobile Features
Cool Stuff
InetTools TrackID For Java MIDP 2.0
The TrackID music recognition service records a short music clip from an external music source, and sends it over the Internet. You will then receive the song title, artist and album name, if available.
Bing v1.0.2 J2ME
bing is the Instant Messenger for your mobile, improving on the combined advantages of SMS with those of well-known instant messaging platforms AIM, ICQ & MSN.
Opera Mini 5 Final Version
Opera Mini 5 browsers are designed to boost your browsing speed significantly. it simple with a sleekly designed user interface, regardless of the phone you are using, and with the same great feature set, such as Speed Dial, tabs, and …
Increased Internet connection speeds – up to 5 times faster
Reduction in associated mobile costs to the end user by up to 75%
Seamless integration with mobile experience
Dynamic compression in real time
Web content adjustment to fit phone display through Mobile Screen Reformatting technology
(MSR)
Compatibility with virtually all mobile phones, including low-end and mid-end handsets.
Compatible Phones

Sonyericsson D750i, F500i, K300i, K500, K510i, K600i, K608i, K610i, K700i, K750i, K790i, K800i, M600i P800, P802, P900, P908, P910a, P910c, P910i, P990i, S700c, S700i, S710a, T610, T616, T618, T628, T630, T637, V600i, V800, V800i, W550c, W550i, W600i, W710i, W800i, W810c, W810i, W900i, W950i, Z1010, Z530i, Z550i, Z600, Z608, Z800i
Samsung A500, A620, A660, A680, A700, A800, A840, A860, A880, A900, A920, A940, C200, C230, D307, D357, D407, D410, D500, D508, D520, D600, D600E, D800, D820, D900, E300, E310, E317, E330, E340, E350, E360, E530, E600, E620, E630, E720, E730, E760, E770, E800, E810, E900, MM-A700, P300, P510, P730, VGA1000, VI660, X100, X120, X140, X450, X460, X480, X486, X497, X600, X610, X620, X640, X660, X700, X800, Z105, Z130, Z140, Z300, Z400, Z500, Z510, Z540, Z710
Nokia 2650, 3100, 3108, 3120, 3152, 3155i, 3200, 3205, 3220, 3230, 3250, 3300, 3510i, 3595, 3650, 3660, 5100, 5140, 5140i, 6010, 6020, 6021, 6030, 6060, 6061, 6070, 6100, 6101, 6102, 6108, 6111, 6131, 6170, 6220, 6225, 6230, 6230i, 6235, 6255, 6255i, 6256i, 6260, 6265, 6270, 6280, 6585, 6600, 6610, 6610i, 6620, 6630, 6650, 6670, 6680, 6681, 6682, 6708, 6800, 6810, 6820, 6822, 7200, 7210, 7250, 7250i, 7260, 7270, 7360, 7370, 7600, 7610, 7650, 7710, 8910i, 9300, 9300i, 9500, E60, E61, E70, N-Gage, N-Gage QD, N70, N71, N72, N73, N80, N90, N91, N92, N93
To view a complete list, please visit:
http://www.onspeedmobile.com/devices/
Download
ONSPEED For Mobile Phones