Upvise Mobile Wikipedia is a free application can Search and read any Wikipedia article directly from your mobile phone. Just type in any word on your mobile and download instantly the entire Wikipedia article specially formatted for your mobile device. You can also bookmark any article to a create a list of favorites in your account.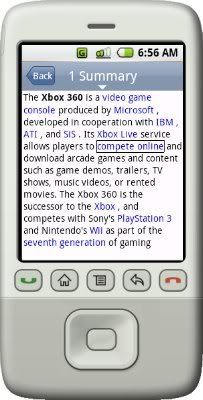 Features
Search: Type in a word and get the corresponding Wikipedia article with a table of contents and the full text of each section.
Multi Language support: you can search the Wikipedia Database in the following languages: English, German, French, Italian, Spanish, Polish, Dutch
My Articles: Star an article to save it and easily go back to all your starred articles.
Web Account Synchronization of your Starred articles: All your starred articles are synchronized with your web account. You can manage and read them on your desktop as well.
Hyperlinks: You can click on the links embedded in articles to download other articles.
Bandwith optimization: All article downloads are compressed in order to optimize your bandwidth usage
Optimal reading experience: Choose between 3 different font sizes, and use page by page formatting for an optimal reading experience
Download
Upvise Mobile Wikipedia
Cool Stuff
Webwag – Widgets on your mobile
Webwag Mobile is the ultimate mobile widgets engine to stay up-do-date and bring your online content directly to your fingertips, including: Preview your mails, read your favorites blogs and RSS feeds with images, get the current weather conditions and 6 …
Gmail v1.5.0.1187
We've been working to make Gmail for mobile devices even faster. Check out the new downloadable application that delivers the following features:
InetTools IRC 1.7.9
It's IRC client for mobile phones.Supports mirc colors, vibration and sounds, smilies, etc. The program is easy to use.